Commissioner James Baker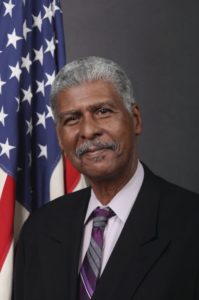 A lifelong resident of Rahway and dedicated public servant, James E. Baker, Jr. has dedicated his career to providing the families and residents of Union County with a wide range of vital human services and has ensured communities can thrive via vibrant community development.
From 2006-2021, he served as an At-Large Councilman in the City of Rahway and in 2021 was elected to the Union County Board of County Commissioners.
He has previously served on the NJ School Boards Association's State Legislative Committee, the Rahway Board of Education, the Rahway Planning Board, the Rahway Housing Authority and as member of the Board of Directors for the Rahway Day Care Center, as well as Jefferson Park Ministries in Elizabeth.
Professionally, Mr. Baker worked for the County of Union for over 25 years, first as a Senior Program Development Specialist in the Department of Human Services and later working in the Department of Economic Development in the Office of Community Development.
A graduate of Wilberforce University with a degree in Sociology, Mr. Baker also earned a Master's degree in Psychology from Kean University.