Governor Phil Murphy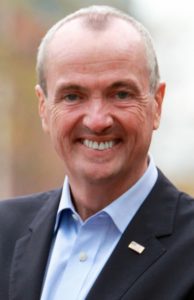 There's one basic fact about Governor Murphy, "he is who he said he'd be." So the more you know who Phil is, the more you know why Phil is fighting for a New Jersey that works for every family.
New Jerseyans have come to know Phil Murphy for his steadfast leadership throughout the COVID-19 pandemic, and they have been able to count on him during their toughest days. The strength and compassion he brings to work everyday started with the lessons he learned growing up. 
Phil's mom was a secretary and his dad never graduated from high school. He grew up "working poor," living paycheck to paycheck, and he put himself through college on loans and part-time jobs. That time in his life most shaped his approach to public policy, and the values his parents taught him are at the core of who he is today.
After several years in the business world, Phil met the love of his life: Tammy. They didn't officially go on a date until almost seven years later, but they were engaged after just 18 days. Together, they've raised their family in Monmouth County, including their kids Josh, Emma, Charlie, and Sam. They have two dogs, Ginny and Lulu, a bird named JoJo, and even a couple of "grandchildren," Theo the hamster and WNBA the goldfish. The soccer-loving gene was passed down to the Murphy kids, and they often play together as a family. 
Phil learned how to grow the economy and create jobs through his successful business career, and he was always drawn to serving his community in some way. He has served on boards for notable important causes, such as the Local Initiatives Support Corporation, which works with local community developers to invest in urban neighborhoods. He also served on the board of a Monmouth County women's shelter from 2005 to 2009 after volunteering there for a few years. He's also given back to the Democratic Party in his roles as Finance Chair for the Democratic National Committee and Chair of the Democratic Governors Association. In 2004, Phil and Tammy together founded 2nd Floor, an anonymous hotline for New Jersey's youth and young adults. 
In 2009, Phil answered the call to public service. President Obama asked him to serve as U.S. Ambassador to the Federal Republic of Germany, a post he held until 2013. After their time in Germany, Phil and Tammy founded New Start New Jersey in 2014, which helped find ways for the unemployed to reenter the workforce.
By 2016, it was clear that New Jersey was on the wrong path. Years of failed leadership from the Christie Administration had made life difficult for the middle class, and Phil refused to sit back and watch our state fall behind. He jumped into the 2017 gubernatorial race and made it clear that he would fight for all the people of New Jersey, not just the wealthy and well-connected, from day one. 
During his time as Governor, Phil has enacted policies that have made New Jersey stronger and fairer for all. He's raised the minimum wage so that working families don't have to choose between keeping a roof over their heads or putting food on the table. He's expanded paid family leave so workers can take time off to care for a loved one in their time of need. He's put a new emphasis on restoring New Jersey's dominance in the innovation economy by reinvesting in workforce development and supporting clean energy jobs, preparing New Jersey's workforce for the future while protecting our environment and combating climate change. 
When COVID-19 hit New Jersey hard, Phil stepped up to make sure the people of New Jersey had the information and resources needed to stay safe, including working across the aisle with the Trump Administration to get much-needed PPE and testing materials. He's provided relief to hard-hit small businesses on Main Street that have struggled to make ends meet — including bars and restaurants, arts organizations, and child care facilities. He set up a network of hundreds of testing and vaccination sites across New Jersey to protect public health. When Phil goes to work every day, he thinks of the commitment he has to protect his fellow New Jerseyans, first and foremost.
Since taking office, Phil has stuck to the promises he made to the people of New Jersey in 2017: increasing funding for our public schools, enacting the nation's strongest equal pay legislation, legalizing adult-use cannabis and decriminalizing marijuana to reduce racial disparities in our criminal justice system and restoring funding for women's health care and Planned Parenthood after nearly a decade of cuts during the Christie Administration. 
There's still a long way to go to keep building on the tremendous progress we've made together. By reelecting Phil as Governor, New Jersey will keep moving forward on a stronger and fairer path for everyone.