Rosanna Lyons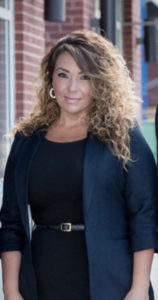 Rosanna Lyons is poised to bring her leadership skills, energy and business
sense to Roselle Parks' governing body. Rosanna is a lifelong resident of
Roselle Park and her family has resided here for over half a century. Her familyroots are deep. Her family , coming here for the American Dream, from Italy, instilled determination , goal setting , passion and sacrifice in all that Rosanna does. Growing up first generation and learning different languages and culture has enhanced her life experiences.
She is the proud mom to Isabella, age eighteen and is a freshman at Drew University.
After high school, Rosanna attended St. John's University and Muhlenberg School of Nursing.
For the last 22 years, Ro has been in the medical field and for the last six years employed by Robert Wood Johnson/St Barnabas Medical Center in Livingston, NJ, as an Information
Technologist for the hospital. One of her primary duties is to set up training for employees
according to the guidelines set forth by the hospital. She has been an outstanding member of the administration upholding company behaviors and implementing fresh and innovative ideas for the betterment of the institution.
Rosanna also has deep faith and has participated with her church fundraising and
implementing ways to feed the needy and homeless. Being a volunteer for the past 25 years is foundational for Rosanna. She believes in " When you give , You Receive!" She participated in a major initiative to get the delivery of goods and services to the Commonwealth of Puerto Rico during hurricane Maria and Irma a few years ago. She is still an active participant and volunteers regularly to this day.
Rosanna, a fit and driven 46 year old mom, brings to the table authenticity, honesty and
boundless energy to continue to move Roselle Park government forward during the next
three years. Her membership to the Roselle Park Council of the Arts, proven business
skills, and distinguished record of accomplishments place her as a " natural" for Third Ward
Council. Under the present administration, Rosanna will help "continue the progress" in
Initiatives already met by mayor Joseph Signorello III and present council.
The indisputable talent and skills she possesses will blend harmoniously with the present
mayor and council. In a word, Lyons is "TIME TESTED AND RESULTS PROVEN".
Vote for Roseanna Lyons, Democrat –Column A, on Tuesday, November 2nd 2021.
– You'll Be Glad You Did!