Assemblywoman Annette Quijano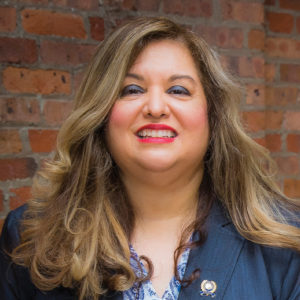 Assemblywoman Annette Quijano has represented the 20th Legislative District since 2008 and has earned the reputation of a champion legislator, tackling the various issues people face in daily life. She understands the challenges middle-class families must overcome and works tirelessly to improve the lives of seniors, veterans, women, children and workers.
Assemblywoman Quijano is currently Majority Conference Leader, and a member of the Commerce and Economic Development Committee, Consumer Affairs Committee, and the Education Committee. She is also a member of the New Jersey Legislative Latino Caucus and the New Jersey Legislative Disability Caucus. 
After completing a Bachelor of Science in Management from Rutgers University, she earned her Juris Doctor degree from Rutgers School of Law in Newark. She was later admitted to the bars in New Jersey and Pennsylvania. 
Later in her career, Quijano served as Assistant Governor's Counsel for Governors Codey, McGreevey, and Corzine. She was selected to the Assembly in 2008, and served as Chairwoman of the Assembly Homeland Security and State Preparedness   Committee from 2011-2018. 
During the 2018-2029 legislative session, Quijano served as Chairwoman of the Assembly Judiciary Committee, where she oversaw the passage of landmark legislation such as her laws to allow all eligible New Jersey residents to get a driver's license, and the removal of statute of limitations on sexual assault, in addition to advancing numerous bills to improve gun safety and advance LGBTQIA+ rights.
In that session, 133 bills that Chairwoman Quijano sponsored or cosponsored became law. She was the first prime sponsor to nine of those laws, including legislation to allow striking workers to receive unemployment benefits, expand paid family leave, prevent and punish wage-theft, the Thomas P. Canzanella Twenty-First Century First Responders Act, and improve security at religious institutions by allowing the purchase of target hardening equipment through the New Jersey Non-Profit Security Pilot Program.
She also served on the National Hispanic Caucus of State Legislators and as Chairperson of the Hispanic Delegation on Racial Equity, an initiative of the National Conference of State Legislators (NCSL) funded bby the Kellogg's Foundation. She is a member of numerous organizations such as the NJ State Bar Association and the Women's Political Caucus of New Jersey. The Assemblywoman is also a Red Cross Volunteer, and an Honorary Girl Scout.